Summary
Low rates and higher market liquidity to support growth
We factor in ~1.5 bn in FDIs in 2021; driven by greater focus on public-private partnerships, manufacturing sector, and investments into Colombo International Financial City
Leading stockbroking firm Asia Securities (Pvt) Ltd., maintained that all signs point to a strong GDP growth trajectory in 2021. The latest Economic Outlook report titled Balancing the Priorities – The New Normal forecasts a GDP growth of 5.4% for 2021, driven by improved investor sentiment and consumer demand, an accommodative monetary policy environment, and a pickup in global demand. Asia Securities' report on 27 March 2020—the first such report to forecast the impact of COVID-19—forecasted the economy to contract by 13.0%—17.0% YoY in 2Q 2020. The report considered three probability-weighted scenarios combining a top-down and bottom-up analysis. The firm's assessment was in-line with the 16.3% YoY contraction for 2Q 2020. While the outlook for 2021 remains largely positive due to improved policy certainty and a stable government, the firm notes that several challenges remain.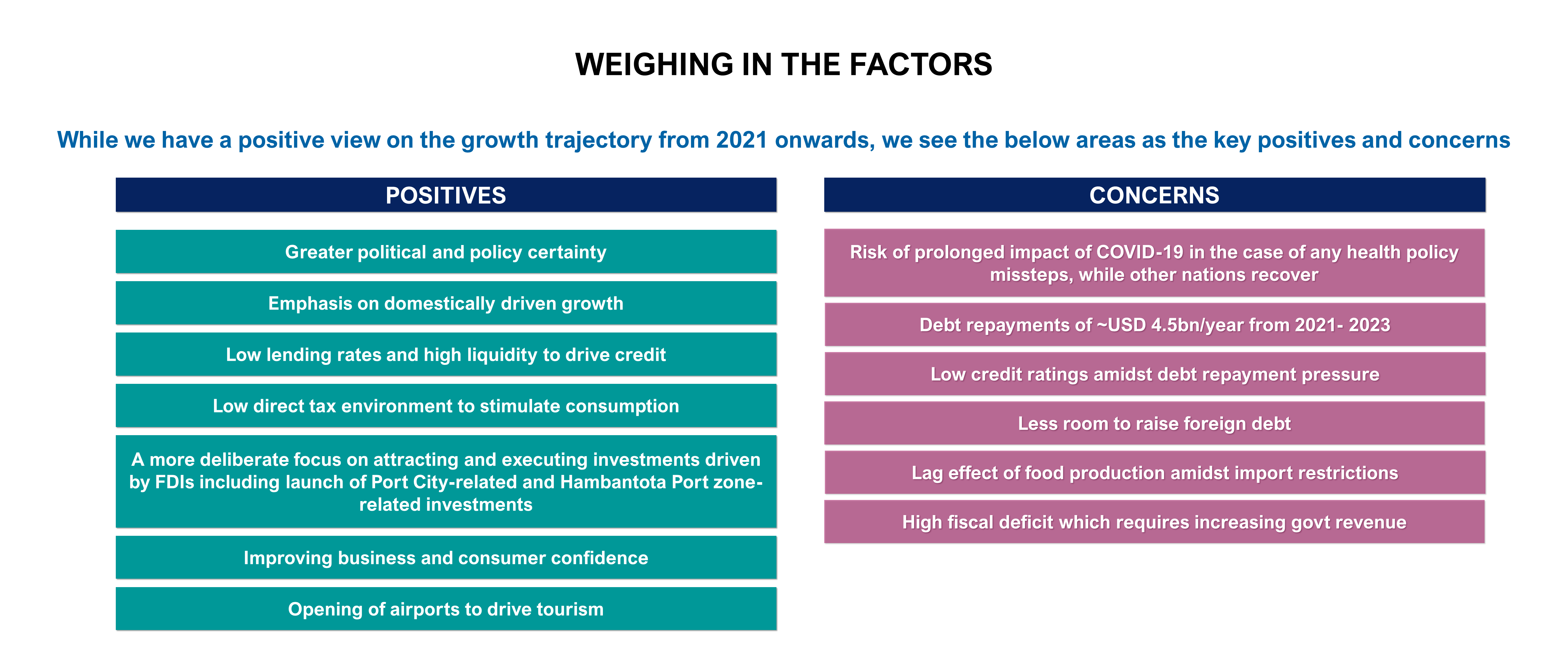 The 2021 budget emphasizes on a domestically driven recovery amidst fiscal support. With improving business and consumer confidence seen following the end of the first lockdown, a continued low interest rate environment bodes well for investments in the short-medium term. However, a negative real interest rate environment will likely continue in 2021.
Sri Lanka looks to head towards a negative real interest rate environment in 2021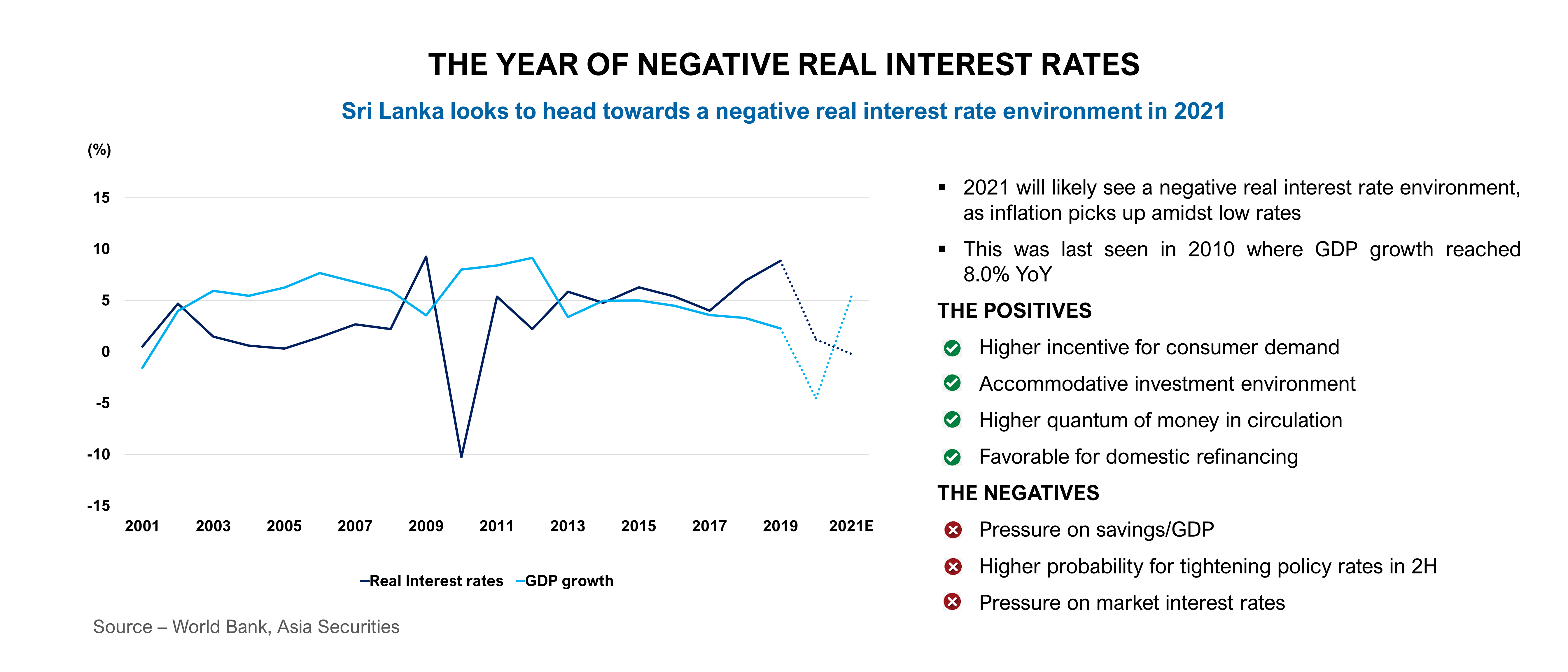 Foreign Direct Investments (FDI) will take center stage in 2021 with the government's focus on executing investment driven FDIs, particularly related to the Port City and Hambantota Port zone. The Asia Securities report notes that attracting long term non-debt related inflows is a key factor at this juncture of the Sri Lankan economy. Improving the FDI landscape can resolve two long-term issues: (i) the dependance on external financing and (ii) fiscal pressure. The report further highlights that there is potential for FDI to reach 4.0% - 5.0% of GDP in the long term if correct policy measures are in place.
Fiscal deficit to reach ~11.3% of GDP in 2021, with government revenue at ~10.3% of GDP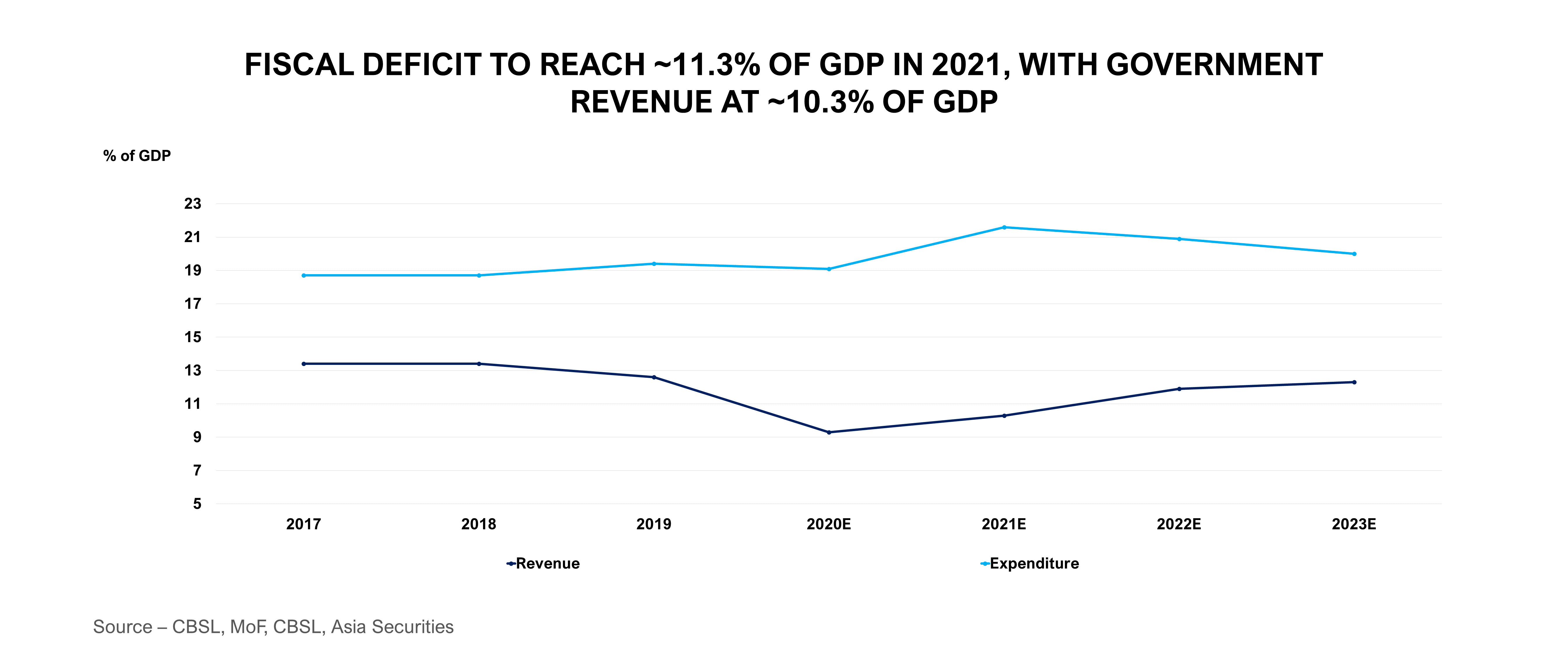 One of the key challenges going into 2021 is the Government's debt obligations amidst a low credit profile. With a USD 4.5bn repayment schedule in place for 2021, the Government would need to ensure that reserves are maintained at relatively healthy levels. We expect the Government will continue to depend on domestic financing. However, with credit growth expected at ~8.0 – 10.0% YoY in 2021, Asia Securities expect interest rates to face upward pressure. While this may lead to higher debt rollover costs, it could be mitigated if non-debt related investments materialise in-line with expectations. In addition, Asia Securities forecast indicate that inflation will remain within the Central Bank's threshold of 4.0% - 6.0% in 2021. While Asia Securities forecasts the fiscal deficit to weaken in 2021, the firm notes that an increase in the revenue base and higher growth can bring the overall deficit down by 2023.
Asia Securities is a leading investment firm in Sri Lanka providing Investment Banking, Research, Equities and Wealth Management services to local and international corporate, institutional and individual clients. Asia Securities' clients can access the full research report titled Sri Lanka: 2021 Economic Outlook - Balancing the Priorities - The New Normal via the online Research portal or their investment adviser. To become a client of Asia Securities, reach out via inquiries@asiasecurities.lk.